Register Now
By providing your personal information, you expressly allow PSB Academy to contact you for marketing and promotional purposes as well. For more information on our privacy policy, please visit psb-academy.edu.sg/pdpa
IMMERSION PROGRAMME 2023
Stuck at a crossroads and wondering what's the next best step? PSB Academy's Immersion Programme is back in action! With fun-filled activities and spectacular prizes to be won, pack your bags, call your besties and join us for a 2-day Immersion Programme. Take this chance to explore the different disciplines you have always been curious about so that you can make a more informed choice when your results are out!

EVENT DETAILS
Date: 3 February – 4 February 2023
Time: 9am – 5pm
Venue: PSB Academy City Campus @ Marina Square
Registration Fee: S$200/-
*Limited slots available, successful applicants will be notified. Application ends 6 Jan 2023.
Experience these disciplines
PRIZES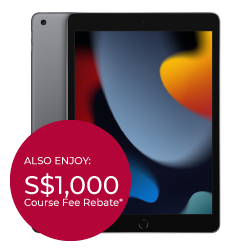 Winning Team: 
• iPad (Gen 9) Wi-Fi 64GB
• S$1000 Course Fee Rebate
Other Teams: 
S$200 Course Fee Rebate
*Participants will be split into groups upon registration. Grouping will be made known on the day of event.
IMMERSION WORKSHOPS
Designing Effective Websites (Digital Marketing)

The marketing landscape is everchanging due to the newest and most influential advances of the Internet. One of the most reliable business practices nowadays is to tap on websites for marketing, brand creation and interface for customer support. ​
​
What does effective website design entail? Striking designs? Compelling content? User-friendliness? With so many variables nowadays, it is challenging to decide what makes a website effective, well-designed, and the ideal platform for your business to reach your audience. ​
​
The session on designing effective websites will teach you the basic skills of building a website, while at the same time, removing the grey lines between what is outdated and what is relevant in today's everchanging marketing landscape. ​
​
Learning Objective: In this session, students will learn the principles basic skills of creating effective websites and how they can influence positively the marketing strategy. ​​
Key Takeaways: Participants will walk away with the basic skills and strategies that can be applied in marketing plans and transferrable skills to other domains, since effective web design can be identified in all the social and professional aspects of life. ​
Basics of Designing Effective Websites:

Digital Marketing ​
Differentiation ​
User- Experience ​
Brand Influence ​
SEO Practices​

Design Thinking for Sustainability (Engineering)

Not surprisingly, design has become increasingly important within business environments and organisations are increasingly trying to understand and master the competitive advantage design can offer. Design is a transformational force that helps organisations develop products, services and experiences that are human-centered. Individuals will need to build creative confidence to embrace Design Thinking's people-centred and needs-driven mindset and apply its tools to achieve impactful outcomes. ​

Design Thinking is more than attractive design; it is about making the world a better place by understanding people's needs and meeting those needs. Therefore, it is important to be comfortable to embrace creativity and lead the creative journey with innovations. ​

Learning Objective: In this session, students will be equipped with a methodology to put design thinking into actions and master the skills needed to sustain creative and design thinking capabilities.
Key Takeaways: Participants will walk away with the basic design thinking principles, tools, and the know-how to apply for business transformation and growth.

Overview of Design Thinking: – Design Principles and Stakeholders Map – Success Factors for Interviews – Brainstorming and Context Mapping – Developing & Implementing Ideas Intuitively and Creatively – Marketing Concepts and Product Strategies

Data Analytics through IoT (IT)

In the world we live in today where almost everything is digital and interconnected, data can be harnessed easily. They can be analysed and used for great purposes such as predicting people's future health conditions and helping customers make up their minds about future product features that they want to get.

This is the main strategy with current businesses. To leverage themselves in the market, they use data science, data analytics and artificial intelligence. It is no secret that these fields and subfields are utilized at their full potential to maximise profit and minimise resources.

Learning Objective:
In this session, students will learn the basics of IoT and AI with the introduction of Machine Learning Tools and Languages


Overview of IoT and AI through Data Analytics:​

– IoT Devices​

– Data Collection and Cleaning​

– AI Architectures​

– Evaluation Techniques

Humanising Your Content (Media and Comms)

As businesses work to diversity into more niche markets and become more unique to attract different market segments, this can often create further confusion in an already saturated market. ​
​
This is when it becomes important for business to harness the potential of media content creation to further their market reach. ​
​
Traditionally, this has been the use of advertising and online pop ups. An increasingly popular approach of late is the use of podcasting. A simple yet effective tool that allows businesses to freely talk about their products and services in a way that relates better to the average individual. ​
​
Learning Objective: In this session, students will learn the basics of podcasting from basic tools and software to simple content structure that will allow you to start creating podcast easily and quickly. ​
​
Key Takeaways: Participants will walk away with the simple understanding that podcasting can be done by anyone, anywhere, anytime with a few simple tools and tricks of the trade ​
​
Basics of Podcasting: ​

Basic Hardware/Software ​
Mic Handling ​
Content Structure ​
Software ​
Publishing​

The Athlete Heart Rate (Sports Sciences)

Heart rate is measured in beats per minute (bpm). Your resting heart rate is best measured when you are sitting or lying down, or if you are in a calm state. Exercise strengthens the heart muscle as a greater amount of blood is pumped with each heartbeat, with more oxygen going to the muscles. As such, an athlete heart rate can also be lower compared to the general population, given the more intense physical activities they are participating. ​

Learning Objective: In this session, learn how to measure heart rate using our lab's heart rate monitors. Learn also the different type of exercises athletes do on a daily basis that help strengthen their heart muscle. ​

Understanding Your Blood Type (Life Sciences)

Blood typing is a test used to identify the blood type of an individual. This test is done prior to blood transfusion or blood donation.​
​
Blood typing plays an important role in helping medical personnel match the appropriate blood type. It is a fast and easy way to ensure that an individual receives the right type of blood during surgery. Not all blood types are compatible and receiving blood that is not compatible with your blood type can trigger a dangerous immune response.​

Learning Objective: In this session, students will be testing on different blood type samples and learn how different blood types react to different antibody serums.​
​
Key Takeaways: Students can get to observe the results and differentiate the different blood types by using blood typing kits.
City Campus
Marina Square 6 Raffles Blvd, #03-200
Singapore 039594